Welcome to Mrs Millican's Class


Welcome to Year 6!
Dates for your diary Year 6 Summer Term
Tuesday 6th June - Visit and tour of the Lambton Estate
Friday 9th June - Visit to the Donnison Centre (Art Work) for children not taking pat in the dance festival
Monday 12th June - Sunderland Museum Workshop (Victoria Hall disaster)
Tuesday 13th June - Sunderland Dance Festival
Wednesday 14th June - Visit from Southmoor staff
Friday 16th June - Memorial service at Mowbray Park
Wednesday 27th June - Nurse visit (Puberty talk)
Tuesday 18th July - Transition Day visit to Southmoor
Days to Remember
Monday - Spelling test and new words sent home for the children to learn
Tuesday - Homework to be handed in to class teacher.
Tuesday - After school Booster Club will run every Tuesday evening 3.30pm - 4.30pm
Tuesday - Football with Arj every Tuesday lunchtime for years 4,5 and 6. Please bring a complete change of P.E kit, including suitable footwear.
Friday - PE (Dance)
Friday - Homework will be given out for following Tuesday.
Children are asked to bring in reading books every day and to take them home each evening to practise their reading. Children are asked to read at the very minimum twice a week and will be encouraged to climb the ladder as an Eager Reader
Multiplications Awards are given out weekly and children are therefore encouraged to learn any times tables to gain their badges and certificate
Mayan Magic!
This term the Year 6 topic is 'Mayan Magic' where we will be learning all about the ancient Mayan civilization. The children will be finding out about where and how the Mayans lived. They will learn all about their traditions, cultures and beliefs. They will have the opportunity to find out about the Mayan daily life - their family lives, foods they ate and all about their democracy. In Literacy they will write their own Mayan myth and a leaflet to persuade people to visit Chichen Itza. Children will also have the opportunity In art to design and make Mayan memorial masks.
12.6.17 - Sunderland Museum
We had a very interesting day today! As part of our Local History week, the year 6 children visited the Sunderland Museum to complete a workshop all about the Victoria Hall disaster. The children had a very special opportunity to be detectives - looking at different types of evidence about the local tragedy and to answer the Who? What? Where? When? Why? questions. The children looked at photographs, newspapers, certificates, eye witness accounts, maps and many more pieces of evidence to find out as much as they could about what had happened on that devastating day. The children worked very hard and will now have a much greater understanding of why the memorial on Friday is so important.
9th June - Donnison Craft Workshop
Today, some of our year 6 children visited the Donnison Centre and found out all about the Victoria Hall disaster where tragically in 1883, 183 children died. In preparation for a memorial service, Grangetown Primary School children each painted and decorated a glass jar which each had on it one of the 183 children's names. The jars, each holding a small candle, will be used during the ceremony and then put on display in Sunderland Minster. The children will take part in the Memorial Ceremony next Friday morning (16th June).
6th June - Lambton Estate
The Year 6 children had an absolutely fantastic visit today to the Lambton Estate. Bob, our wonderful guide, invited us to speak to different people who were working on the Estate, so that they could tell us all about their jobs. We started our morning by visiting the stables where we met Monty the horse. Sue told us all about working at the stables and the children took turns grooming Monty 🐴. We then visited the Estate offices and had a chance to look at the old ledgers. Outside, some children fed the highland cattle 🐮 (digestive biscuits!). We were very lucky to have a tour of Biddick Hall which was absolutely beautiful - we were even welcomed with chocolates, crisps and juice! We ended the morning by talking to the bee keepers and looking at some of the hives to find out all about bees 🐝 and honey 🍯. After we had eaten our packed lunches, we met the Estate game keeper who brought with him some wonderfully energetic dogs! Finally, we had a really interesting tour of Lambton Castle - even venturing down to the cellars! We had an amazing day and would like to thank all of the staff who work on the Estate for making us feel so welcome!
25th May - Cinema Visit
We are so proud of our wonderful year 6 and how hard they have worked in the lead up and during SATs week. Today, they received a well deserved a treat - a visit to the Empire Cinema in Sunderland. We had a fantastic time watching the new Pirates of the Caribbean film on the actual day that it was released. Some of the children even dressed as pirates to really throw themselves into the experience. Aarrghhh!! We all thoroughly enjoyed the film which was full of special effects. A fantastic morning. Well done Year 6!
23rd May - Hit the Surf
Children in years 4,5 and 6 were today given the special opportunity of once again taking part in the Hit the Surf activity at Seaburn Beach. After taking part in safety discussions, the children played warm up games in the sun. Children divided into two groups, taking turns to body board and then save their friends. All the children were wonderfully behaved and had a fantastic day learning some very important lessons on how to stay safe in the water.
D

ates for your diary Year 6 Spring 2
Monday 27th February - SAFETYWORKS visit
Thursday 2nd March - World Book Day - Dress up as a favourite children's book character
Friday 24th March - Red Nose Day - Come as you please
Monday 27th March - Parent Consultation Day
Friday 31st March - Sunday 2nd April - Derwent Hill
Friday 7th April - School closes for Easter Holidays (Return Monday 24th April)
Monday 8th May - Thursday 11th May - SATs week
31st March - 2nd April - Derwent Hill
Some of the year 4, 5 and 6 children had a wonderful residential weekend visiting Derwent Hill in the Lake District. We all had an absolutely amazing time taking part in lots of different and exciting activities like: gorge walking at Honister; swinging on the 'Death Swing'; canoeing on Lake Derwentwater or trekking up to and investigating the mine. Our evening activities included a scavenger hunt, climbing on the low ropes and completing a night walk around the grounds. We were very proud of the children. They all tried something new during the weekend and worked together brilliantly, helping their friends – and teachers! The children were all wonderfully behaved - were all very proud of their perseverance and teamwork. A fantastic weekend!
24th March - Red Nose Day
The children thoroughly enjoyed their day today, coming to school in their own clothes and making a donation to comic relief. Many children also supported the wonderful charity by sporting red noses, head bands and t-shirts or red outfits. Thank you very much to all parents and carers who sent in cakes and biscuits to sell to the children (organised by our parents group). All for such an important cause!
2nd March - World Book Day
The children all looked amazing as they came into school to take part in World Book Day. The whole school came together to celebrate the importance of reading and the enjoyment books can give. Year 6 shared books with children from Reception and Year 3, reading beautifully together. All children received a £1 book token, which they can use to either put towards a more expensive book or buy a special £1 World Book Day book.


27th February - Safety Works
Today, the children took part in a very important visit to Safety Works in Newcastle. Here, they learned all about keeping safe in a number of different situations. The children worked with St. John's Ambulance to find out how important it is to keep your kitchen tidy, looking at dangers in the home and what to do if someone is injured. Children were shown what to do if someone is choking and how to use the recovery position. They had the opportunity to work with the Fire Service looking at fire hazards in the home, how to check a smoke alarm and how to keep themselves safe if they were in a building which caught fire by using the 5 Point Escape Plan. At the Metro station (which had an actual metro train carriage) they worked with Nexus to ensure children stay safe while on a station platform. Children also worked with the police and found out about peer pressure and what it would be like to be arrested at 10 years old. The children had a fantastic afternoon and learned important information about keeping themselves safe!
7

t

h

F

e

b

r

u

a

r

y

- S

h

o

w

R

a

c

i

s

m

t

h

e

R

e

d

C

a

r

d
The children had an excellent day working with Sunderland football club Foundation as part of the Show Racism the Red Card. The children had the opportunity to discuss what they thought racism was and reflect on a previous workshop they completed in Year 5. The children discussed immigration and played a game to learn all about human rights. They learnt about the different types of immigrants that come to the UK and completed a sorting activity, matching descriptions of immigrants. In the afternoon, they worked with Andre Bennett and after warm up exercises, played 6-a-side football. The children really enjoyed their day.
31st January - Chris Connaughton visit
On Tuesday, the children had a wonderful day working with the actor and author Chris Connaughton. The whole day was linked to our topic Kensuke's Adventures. The day began with the Chris performing a one man play about being stranded at an airport where he acted out the story of Robinson Crusoe. Parents and carers were also invited to watch the performance where Chris brought the play to life using props such as sand, shells and pieces of driftwood. The children were then given the opportunity to ask Chris questions about the performance. Back in class, the children continued the day taking part in writing workshop, writing a diary entry as if they were Robinson Crusoe and imagining they were Robinson Crusoe writing a letter back home to his parents. Children also drew and labelled a map of the island. The day ended with a question and answer session asking Chris about what it is like to be an author and a writer. The children enjoyed their day and picked up some very helpful writing tips.
18th January - Monozukuri Caravan at Nissan
On Wednesday, the children had a fantastic time visiting Nissan in Sunderland to take part in a Monozukuri Caravan event. The children were given a very warm welcome - of cookies and juice - and then took part in an opening ceremony where one eye of a Daruma doll was coloured in and all of the children signed their names. This was to bring good luck to everyone involved in the event. During the morning, the children designed their own cars - made out of lego! They also watched a film of a production line to see how cars were made. They then created their own production lines to make a Buddy car. They found that if they worked together and worked 'clever' they drastically cut the time taken. After lunch, the children had a fantastic opportunity of visiting the workshop where some apprentices were working. The final activities in the afternoon took place in the innovation station. Children practised their hand-eye co-ordination on a number of activities including: putting pegs in the holes as quickly as they could; hammering out dints from metal; taking out the correct number of nuts and bolts and drilling screws. After a closing ceremony, the children were all given a fantastic goody bag!
Kensuke's Adventures
The year 6 topic for the Spring term is 'Kensuke's Adventures', a literacy topic based on the Michael Morpurgo book, Kensuke's Kingdom. As we read the book together, children will be motivated and inspired in their writing. They will write a variety of different genres including discussion texts, narrativesories and descriptions, instructions, recounts and explanation texts. They will learn about the artwork of the Japanese artist Hokusai and create their own versions of his work. In music, they will learn about water music and compose their own versions. They will also continue their Spanish etwinnings project.
Dates for your diary Year 6 Spring 1
Wednesday 18th January - Visit to Nissan - Monozukuri Caravan Event
Monday 23rd January - INSET Day
Tuesday 31st January - Visit from Chris Connaughton (Parents welcome)
Friday 3rd February - Heights and weights
Tuesday 7th February - Show Racism the Red Card
Friday 17th February - School closes for half term (Return Monday 27th March - SAFETYWORKS)
15th December - Peter Pan
We were all so proud of the Year 6 children and choir today after their fabulous performances of Peter Pan. They absolutely shone - acting, dancing and singing brilliantly in front of hundreds of family and friends. All of their hard work from the last six weeks paid off as they produced amazing performances. We would like to thank all of those involved in helping to learn lines, making and buying outfits and providing props. Fantastic!
12th December - Show Week!
This half term, the year 6 children have been having a fantastic time rehearsing for their Christmas production of Peter Pan. Children have been working very hard to learn lines, acting, sing songs and make props. The transformation has been outstanding, from holding scripts in hands to becoming very believable Disney characters. Costumes are coming together and backdrops being painted. This week is show week! With dress rehearsals on Wednesday and performing for family and friends on Thursday. Tickets are still available - but selling fast - from the school office for only £2.00 for adults and £1.00 for children. Thursday's performances will take place at 2.00pm and 6.00pm. Thank you so much for all of your support. We look forward to seeing you on Thursday.
8th November - Internet Safety
Today the children took part in a very important workshop learning all about internet safety. They talked about which type of apps and programmes are appropriate and how to keep themselves safe while online. They all learned how important it is to not share passwords and the need to speak to an adult if they feel that they are being cyber bullied. The children all joined in very sensibly and listened carefully to the very important messages.
Journey to Neverland!
The year 6 topic for the second half of the Autumn term is 'Journey to Neverland'. This is closely linked to our Christmas production of Peter Pan! The year 6 children throughout the term will have the wonderful experience of learning scripts, practicing their dancing and singing and working towards a fantastic performance of Peter Pan. Based around the inspiring book of J. M. Barrie, the children will be writing their own poems and stories. They will carry out their own research and write a non-chronological report about crocodiles and will write their own newspaper article about strange sightings of children 'flying' over London! Linking the story to our geography, children will learn about mountains and mountain ranges. In science, children will be classifying types of living organisms. It will be a very busy and exciting half term!
Dates for your diary Year 6 Autumn 2
Wednesday 2nd November - Rehearsals begin for Peter Pan (every Wednesday and Thursday)
Tuesday 8th November - Internet safety workshop. This follows an assembly for parents and carers which we hope you can attend!
Wednesday 16th November - Parent Consultations
Thursday 15th December - Peter Pan Performances! (2.00pm and 6.00pm)
Monday 19th December - KS2 Christmas Party
Wednesday 21st December - Christmas Carol Concert
19th October - WWII Day
Today, the children made a fantastic effort to dress up and take part in our WWII day - to celebrate the end of our topic Keep Calm and Carry On. During the morning, the children performed in out Harvest assembly, singing 'Oh Yes, We Have No Bananas', showing how WWII affected the import and export of foods, and the need for rationing. Following the assembly, the children made their own sandwich filling using vegetables and pickles and also a war time dessert. They made their own identity cards and evacuation labels to wear as an evacuee. The children all looked the part, carrying their gas mask boxes, made during a maths lesson from a net of a cuboid. Children write postcards home in character and used Morse code to 'crack' a secret message. During the afternoon, we watched Goodnight Mr Tom, where children could point out all of the history learning that they have covered during this half terms topic.
5th October - Visit to Southmoor
Today is an exciting day for the year 6 children as they are visiting Southmoor Academy as part of their transition to KS3. The children will spend the day visiting classrooms, taking part in some of the lessons and having their lunch in the canteen.
30th September - Hit the Surf
Today, some very lucky year 5 and 6 children had the fantastic opportunity to 'Hit the Surf' at Seaburn Beach. First, the children took part in a water safety discussion where they learned all about the different coloured flags at the beach, how to help someone in trouble and how to keep themselves safe. The children then changed into wetsuits and were divided into to groups - one group to body board in the waves and the other group to help save a friend in trouble. The groups then swapped to try their second activity. We had an absolutely fabulous time!
27th September - Eden Camp
Today, the children had a fantastic time visiting Eden Camp in North Yorkshire. Here, they learned all about life during World War II. The children excitedly looked in each of the Huts to discover all about How Britain prepared for War, The Blitz, Life on board a U-Boat, Bomber Ops and Prisoners of War to name just a few. We all enjoyed the Eden Camp Music Hall where we sang along with Vera Lynn and loved being squirted with water! The children had a great time 'exercising' on the junior assault course and all day looked forward to the shop visit. A fabulous visit!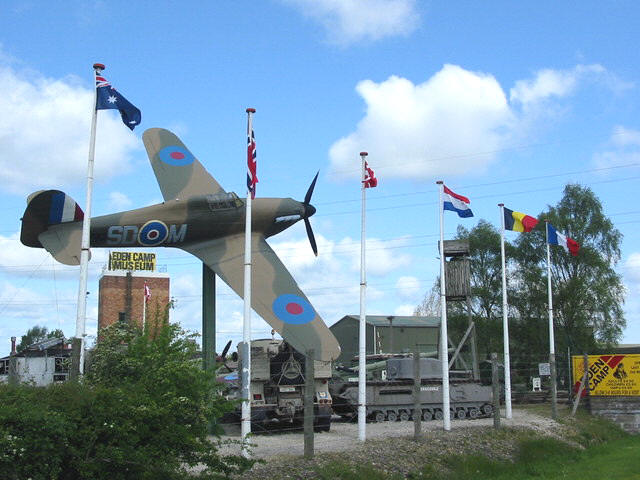 September and October - Hendon History Project
Each Monday afternoon, the children have had the wonderful opportunity to work with local historians to find out more about Grangetown and its community. So far, we have looked ourselves and our family trees and the make up of a community. Children have also answered interesting questions about our local area and have added these - with relevant photographs - to a timeline. This week, we visited Grangetown Cemetery where we took notes and photographs to research all about next week. The children have demonstrated a keen interest in their local history!
Welcome to Year 6!
The children have made a fantastic start to the Autumn term. Our first topic in year 6 is linked to our World War II history Keep Calm and Carry On! The children will be learning all about life during WWII - finding out about the Blitz, discovering how people kept themselves safe and learning about rationing and evacuation. In their writing, they will study the life of Anne Frank and will have the opportunity to write a diary in character. As part of their art and design, children will create their own propaganda posters and will design and make their own Anderson Shelters. To help bring out topic to life, children will be visiting Eden Camp, in Malton, where they will learn all about life during Wartime. As our topic hook, children looked at a set of wartime medals.
Dates for your diary Year 6 Autumn 1
Monday 12th September - Hendon History Project (Library)
Monday 19th September - Hendon History Project (Library)
Monday 26th September - Hendon History Project (Grangetown Cemetery)
Tuesday 27th September - Eden Camp
Friday 30th September - Hit the Surf
Monday 3rd October - Hendon History Project (ICT)
Wednesday 5th October - Southmoor Visit
Monday 10th October - Hendon History Project
Monday 17th October - Hendon History Project
Wednesday 19th October - World War II Day
24th March